Upcoming Events and notices

Next Meeting: Monday, October 15th 8:00 PM
Eagles Club, 316 S 2nd St, Aberdeen
(Exec meeting Monday, Oct 1st - same time and place)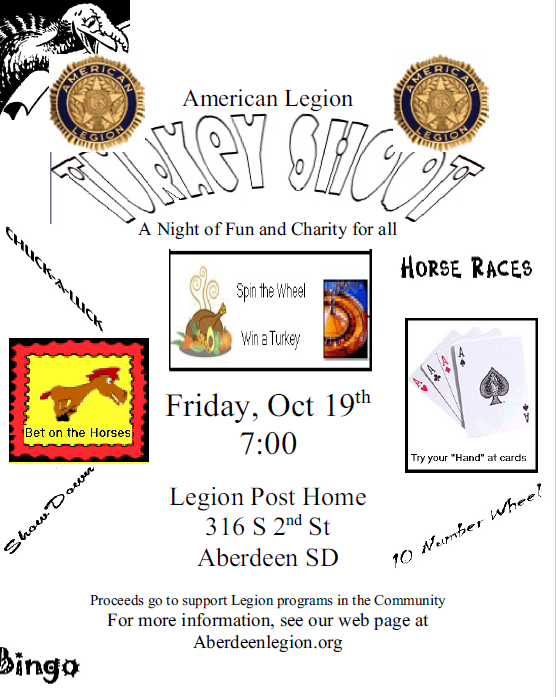 The Aberdeen post's annual fall fund raiser - or "Turkey Shoot" - will be Friday the 19th of October at the Legion post home.

Come out and join us for games of chance with great food prizes including steaks, bacon, sausage, and (of course) frozen turkeys. Games include bingo, show down, horse races, and various wheels, the cost to play varies from 50 cents to $5 per game, with games running continuously (as long as the table is full) until 10pm.

Proceeds from the night are used to support American Legion programs.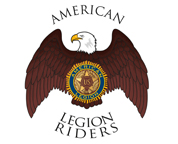 Riders chapter in Aberdeen
The Aberdeen Chapter of the American Legion Riders meets on the THIRD THURSDAY of each month, at 7:00. The Riders are members of the American Legion Family (The American Legion, the American Legion Auxiliary, and the Sons of the American Legion), as well as their spouses. Riders membership is regional, you can belong to any post, squadron, or unit in the Department (South Dakota) and still ride with the Aberdeen Chapter. The Riders are a program of The American Legion and the sponsoring post, not a motorcycle club. While the Riders do share an enthusiasm for motorcycle riding, the primary goal is still service to the community, state, and nation. Feel free to read the chapter by-laws for more information, or to write the post with any questions.
Sons of The American Legion
There is interest in starting a Squadron of the SAL in Aberdeen, but more members are needed to charter one. SAL membership is open to male descendants (including stepsons and adopted sons) of Legionnaires, or of deceased veterans who were eligible for membership in The American Legion - members can range in age from elementary school to retirement.

The Sons can be a dynamic, active part of both the post and the community at large, but only if a squadron is started. If you are interested in helping to charter an SAL Squadron in Aberdeen, please contact the post.

Future Department Conventions:

2019 Sioux Falls, June 6-9
Future National Convention Sites
Indianapolis, IN - AUG 23-29, 2019 100th Birthday of The American Legion)